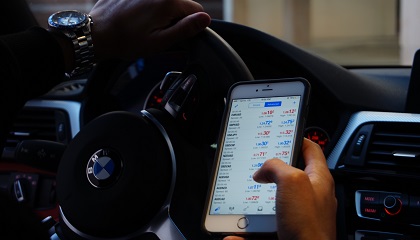 From 1 February 2020, the penalties for using your mobile phone while driving in Queensland will increase significantly. The fines for any kind of illegal mobile phone use will increase from a $400 fine to a $1,000 fine. The number of demerit points incurred will also increase from 3 points to 4 points. If a driver is fined for illegal mobile phone use again in the following 12 months, then the demerit points double to 8 points, which would result in most people losing their drivers' license.
While we would never encourage motorists to do anything that would jeopardise the safety of themselves or other road users, we are also aware that there can be confusion about what you can and can't do with your mobile phone while driving – so we will take this opportunity to set the record straight.
If you are an Open or P2 license holder, you cannot use a mobile phone that you are holding in your hand while you are driving under any circumstance. The following are examples of things you cannot do with your mobile phone, if you need to hold it in your hand, even if it is only briefly:-
• Making or accepting a phone call, regardless of whether you then place the phone to your ear or then place it on loudspeaker;
• Skipping a song or scrolling through a playlist to select a new song;
• Reviewing or composing a text message;
• Checking or changing your navigation; or
• Turning your phone on or off.
The only time that you can use your mobile phone in your hand is if you are parked – that is, you are stopped with the intention of staying at that place. So using your mobile phone in your hand while temporarily stationary, such as when waiting at traffic lights or when stuck in traffic, is not permitted.
However, a mobile phone can be used without any restriction if it's placed in a cradle (like those that attach to your windscreen or dash). The cradle cannot restrict your vision – if it does, you could be fined for having an obstructed vision. Similarly, if your mobile phone is connected to your car stereo (e.g. Bluetooth, Android Auto, Apple Carplay), then you can use all functions of your phone, provided you are controlling your phone through the car.
If you hold a P1 license, you cannot use a mobile phone at all – even if it is in a cradle or connected to your car stereo. Your passengers cannot make or receive phone calls on loud speaker either.
Regardless of license type, you can use a UHF/CB/2-way radio while driving, including holding the handpiece to make a transmission.
Even if you comply with these laws but are driving distracted because of your mobile phone, there are other penalties that Police have discretion to charge you with, such as careless driving. It should go without saying that distraction and inattentiveness are major contributors to accidents. Any time spent with your eyes away from the road should be avoided as far as possible as it drastically increases your chances of being involved in an accident. We encourage all motorists to drive safely.
This post is general information only. It is not a substitute for legal advice from a lawyer. If you have a legal issue, you should always contact your lawyer to obtain advice that is relevant to your circumstances. If you are driving in other states, their road rules will likely apply, and they may differ from these. This post is accurate as at the date of publication – the laws may subsequently change, and so if in doubt, you should check the Department of Transport and Main Roads' website.